EHF awarded by AMCHAM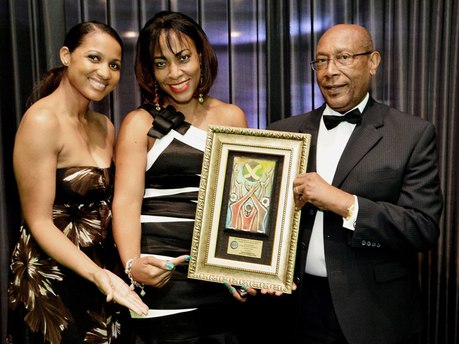 Key members of the Environmental Health Foundation team (from left) Latoya Aquart-Foster, Project Manager; Novlet Deans, Chief Executive Officer; and Dr. Henry Lowe, founder and Executive Chairman are all smiles after placing second in the category of Excellence for Civic Leadership – Non-Profit Organization at the recent American Chamber of Commerce Business and Civic Leadership Awards 2014.
The American Chamber of Commerce (AMCHAM) award is aimed at celebrating and encouraging philanthropy and corporate social responsibility in Jamaica. The award seeks to encourage those who inspire others with their vision, leadership and achievement. The goal of the programme is to showcase businesses, individuals and non-non-profit organisations that are driving and achieving economic and social progress in Jamaica through ethical leadership, stewardship and community building activities.
Nominations are in the categories of corporate social responsibility, civic leadership and arts and culture. The award ceremony took place on Thursday, October 23, 2014 at the Jamaica Pegasus Hotel.
11th Annual Wellness & Lifestyle Promotion 2015 - Apr 16, 2015

The Environmental Health Foundation (EHF) will be staging its 11th Annual "We... (Eden Gardens)

WORKSHOP:"Energy Efficiency, Regularization, Energy Consumption and Safety" with Kelly Tomblin - Nov 12, 2014

Workshop on "Energy Efficiency, Regularization, Energy Consumption and Safety... (The Saint Andrew Settlement (Community hub) in Majesty Gardens, Kingston 11, St. Andrew)

EHF/GEF Renewable Energy Project in Majesty Gardens - Oct 7, 2014

Sensitization Session with residents to inform them about our 18 months renewab... (Majesty Gardens, St. Andrew)