HENRY I.C. LOWE, O.J., C.D., J.P., Ph. D., DSc. (Hon.), F.R.S.H., A.R.I.C.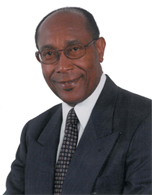 Dr. the Honourable Henry I.C. Lowe, a scientist who specializes in medicinal chemistry, has contributed approximately 50 years in the fields of science and technology, energy, the environment, wellness and health sciences nationally, regionally and internationally since graduating from the University of the West Indies, Mona. As a result of his outstanding work in these areas he has earned several recognitions nationally and regionally, including the Order of Jamaica in August 2012 and Commander of the Order of Distinction in 1982. He has also served on several public and private sector boards. Dr. Lowe is not only recognized as one of the regions outstanding scientists but also public servant, author, educator and successful entrepreneur.
Dr. Lowe was born in St. Andrew, Jamaica and was educated at Calabar and Excelsior High Schools, University of the West Indies, (B.Sc. Hons.), University of Sydney, (M.Sc.), Manchester University, (Ph.D.), Bolton Institute of Technology England, (Dip. Technical Education), Harvard University and M.I.T, U.S.A., (Post Doctoral Studies).
A former Permanent Secretary for the Government of Jamaica, Dr. Lowe researched and established the first Ministry of Science & Environment in the CARICOM region. He served as Chairman as well as President & CEO of Blue Cross of Jamaica. Dr. Lowe is founder and Executive Chairman of the EHF Group of Companies, which includes a private, not for profit organization, Environmental Health Foundation (EHF), established in 1992, to enhance the quality of people's lives in Jamaica. The Group also includes a commercial entity, EHF Resource Development Limited. This company has subsidiaries Pelican Publishers Limited (a boutique publishing house with an emphasis on wellness and health publications), Eden Gardens Wellness & Lifestyle Limited (a premier wellness & lifestyle centre), Bio-Tech R&D Institute (a company engaged in the research, development and commercialization of health and wellness products from Jamaican plant-based materials) and Medicanja (a company that undertake cutting edge research on the medicinal uses of Ganja). Dr. Lowe established the first science based Nutraceutical industry in the Caricom region with significant financial potential for import substitution and the export market, which is a multibillion market.
Dr. Lowe has discovered several bioactive molecules from Jamaican medicinal plants (particularly Jamaican Ball Moss) which are being developed for cancer therapy, diabetes and HIV/AIDS. He is also the holder of 2 patents based on the areas of his research in nutraceuticals and chronic diseases. Along with Drs. West and Lockhart, Dr. Lowe developed the first commercial product from Ganja for the treatment of Glaucoma.
Dr. Lowe has published over 22 books and has three in various stages of completion at this time. Dr. Lowe was the first Caribbean person to publish a science textbook series for secondary schools, which were not only used in Jamaica and the Caribbean, but also in Africa. Some of his more recent publications include "Caribbean Herbs for Diabetes Management: Fact or Fiction?", "Discovering the Future - The Emergence, Development and Future of Science and Technology in Jamaica", and "Jamaica's Ethnomedicine – Its Potential in the Healthcare System". He has also published over 100 articles in the areas of science, technology and the health sciences for journals and the popular press.
Dr. Lowe holds many awards and accolades, including the Jamaica Observer Business Leader Award (2006) and the CCRP Living Legend Award (2012); and is the only Jamaican who is a member of the prestigious American Association for Cancer Research (AACR). Dr. Lowe is a member of the American Association for the Advancement of Science, Fellow, Royal Society of Medicine United Kingdom, Harvard Medical School Postgraduate Association, American Association of Pharmaceutical Scientists and the American Chemical Society and a Life Member of the New York Academy of Sciences.
Dr. Lowe is an Adjunct Professor in the Department of Medicine, University of Maryland School of Medicine, USA and Distinguished Adjunct Professor of Ethno-medicinal Chemistry, University of Technology, Jamaica.
11th Annual Wellness & Lifestyle Promotion 2015 - Apr 16, 2015

The Environmental Health Foundation (EHF) will be staging its 11th Annual "We... (Eden Gardens)

WORKSHOP:"Energy Efficiency, Regularization, Energy Consumption and Safety" with Kelly Tomblin - Nov 12, 2014

Workshop on "Energy Efficiency, Regularization, Energy Consumption and Safety... (The Saint Andrew Settlement (Community hub) in Majesty Gardens, Kingston 11, St. Andrew)

EHF/GEF Renewable Energy Project in Majesty Gardens - Oct 7, 2014

Sensitization Session with residents to inform them about our 18 months renewab... (Majesty Gardens, St. Andrew)