Science & Technology
Testimonial

"Now more than ever, Science and Technology must be utilized to drive sustainable development and set the stage for partnership within the Caribbean Single Market and Economy (CSME). The Environmental Health Foundation, through its partnership with the Caribbean Herbal Business Association - Jamaica Chapter (Jamaica Herbal Business Association), epitomizes the regional spirit of the CSME and the benefit of integration. This strategic move by the Foundation can help to introduce a more scientific approach to traditional health care and provide an appropriate environment for innovation and the development of ideas, as well as a multipurpose/multi-user approach to science and technology instead of singular and unsustainable approaches, and most importantly will help address the most critical challenge facing the nation and the Caribbean: How local initiatives can bridge the huge gap between the North and the South in the production and utilization of scientific and technological knowledge." - The Most Hon. Percival J. Patterson, ON, PC, QC, MP, Former Prime Minister of Jamaica & Chairman, National Commission on Science and Technology(NCST)
The Science & Technology Programme supports innovation and knowledge generation as a catalyst to stimulate socio-economic activities that will result in improving and sustaining the quality of life.
In 2004, Jamaica spent approximately 0.02 per cent of Gross Domestic Product (GDP) on Science and Technology (S&T). History shows that in the developed world, industrialisation was only possible due to the investment made by those countries in infrastructure, the knowledge base and in the training of professionals in the field of S&T, which resulted in many innovations which speeded up the pace of change. Against this background, the Foundation's new Strategic Plan 2005-2010 places more attention and resources for the Science and Technology Programme which will focus on science and technology as a catalyst that enhances activities in the Foundation's other programme areas, which are, health, education and the environment.
Projects & Programmes
Tillandsia Recurvata Research (Cancer Research Project)
Spearheaded by medicinal scientist Dr. the Hon. Henry Lowe, the goal of this EHF-supported project is to develop an effective treatment option for the major forms of cancer, including prostate cancer, through scientific research on a Jamaican medicinal plant, Tillandsia Recurvata (Jamaican ball moss). Research activities conducted to date have resulted in the formulation of a nutraceutical with anti-cancer properties, the Alpha Prostate Formula, which is distributed by Bio-Tech R&D Institute Limited, a member of the EHF Group of Companies
University Diabetes Outreach Project (UDOP) Annual Conference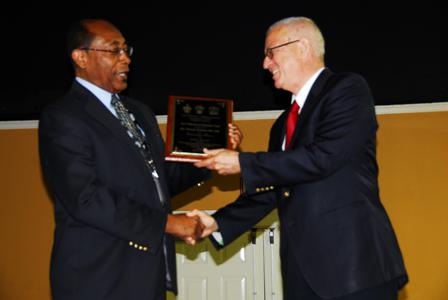 Above: Dr. Henry Lowe presents the Phillip Sherlock Award to the Hon. Rev. Ronald Thwaites at UDOP Conference 2010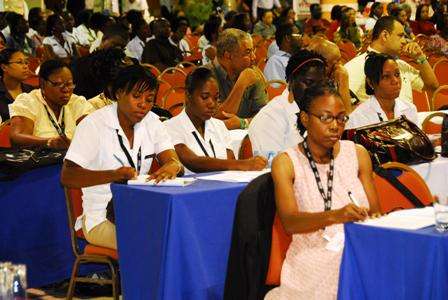 This Annual Conference, which is organised by the University Diabetes Outreach Programme (UDOP) in collaboration with The University of the West Indies (UWI) and the University of Technology, Jamaica (UTech), delivers the latest findings in diabetes research and treatment, as well as innovations on new drug development and monitoring device. EHF supports this annual conference, now in its 22nd year of staging, through sponsorship. EHF's Executive Chairman, Dr. the Hon. Henry Lowe, and his team, also presents scientific papers on diabetes management, at this conference.
EHF/UWI Nutritional Supplement for Drug Abuse Treatment & Management Project
This research project, which is supported by EHF, involves assessing the effectiveness of a formulation of nutritional supplements in reducing the cravings for alcohol and illicit drugs in the treatment of alcohol and drug dependence. The ultimate goal of the project is to develop an effective treatment option for illicit drug abuse.
Organizations, individuals, projects and programmes we have supported in science & technology
11th Annual Wellness & Lifestyle Promotion 2015 - Apr 16, 2015

The Environmental Health Foundation (EHF) will be staging its 11th Annual "We... (Eden Gardens)

WORKSHOP:"Energy Efficiency, Regularization, Energy Consumption and Safety" with Kelly Tomblin - Nov 12, 2014

Workshop on "Energy Efficiency, Regularization, Energy Consumption and Safety... (The Saint Andrew Settlement (Community hub) in Majesty Gardens, Kingston 11, St. Andrew)

EHF/GEF Renewable Energy Project in Majesty Gardens - Oct 7, 2014

Sensitization Session with residents to inform them about our 18 months renewab... (Majesty Gardens, St. Andrew)