Organizations, individuals, projects and programmes we have supported in health
Caribbean Association of Pharmacists (CAP) Annual Conference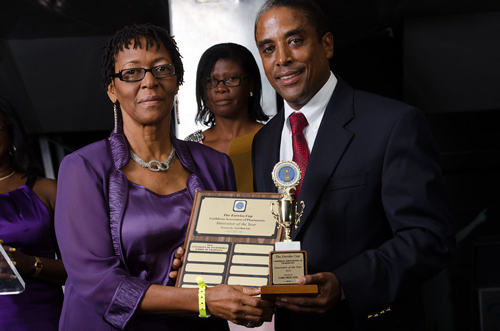 The Caribbean Association of Pharmacists (CAP) is a network of care providers dedicated to improving the health and well-being of people. The association achieves this by fostering a culture of continuous learning and improvement among the membership in pursuance of the advancement of the profession of Pharmacy. According to CAP, members aspire to practice Pharmacy with a social conscience and commitment to the growth and development of the people of the Caribbean.
EHF sponsors the HIC Lowe Trophy, which is presented to the Caribbean Innovator of the Year at the Caribbean Association of Pharmacists (CAP) annual conference. In addition to trophy sponsorship, EHF also donates resources to the conference, such as the following publications:
"Caribbean Herbs for Diabetes Management: Fact or Fiction"
"Can the Future Be Discovered?"
"Exotic Teas of the Caribbean"
"The Prostate Cancer Guide – A Resource for Jamaican Men & Their Families"
Caribbean Poison Information Network (CARPIN)


CARPIN (Caribbean Poison Information Network) is an organization that seeks to reduce poisonings in Jamaica and the wider Caribbean through education and outreach. EHF sits on the Management Committee of CARPIN, and remains committed to assist the organization in the execution of its mandate.
Kingston & St. Andrew Mayor's Christmas Fund
EHF provides financial support to this initiative, which is an annual drive that targets mainly the elderly.
UTech Pharmacy Alumni
The University of Technology Jamaica (UTech) Pharmacy Alumni was formed with the mandate of supporting the training programme for pharmacists at UTech and facilitating the contribution of pharmacy graduates to the Jamaican society. No doubt, this represents an important move on the part of UTech – an institution focused on developing and enhancing the science and business of pharmacy in Jamaica.
The UTech Pharmacy Alumni hosts an annual awards ceremony, which EHF supports through sponsoring the HIC Lowe Pharmacy Graduate Trophy which is presented to the Outstanding Graduate in Research and Publishing.
Alternative Medicine Symposium
Community & Indigent Support
Health Tourism Project (Trevor Hamilton & Associates)
Jamaica Constabulary Force Telephone Help Line Service
Jamaica Federation for Women
Jamaica Teachers' Association School Fitness Project
Jamaican Association for the Advancement of Middle Life Health
Jamaican Handbook for the Elderly
Jamaican Women of Washington Inc.
Junior Doctors' Association
Kingston Public Hospital
Kingston Public Hospital Book
Lintonvale Foundation
Medical Expenses for the Economically Challenged
Nurses Association of Jamaica
Police Officers Wellness Gym
Scientific Research Council (Health Related Research and Development Project)
The Economically Challenged Student
University Hospital of the West Indies
UWI's History Department (Health Care Research and Development Project)
Where There Is No Doctor (Sivone & Associates)
11th Annual Wellness & Lifestyle Promotion 2015 - Apr 16, 2015

The Environmental Health Foundation (EHF) will be staging its 11th Annual "We... (Eden Gardens)

WORKSHOP:"Energy Efficiency, Regularization, Energy Consumption and Safety" with Kelly Tomblin - Nov 12, 2014

Workshop on "Energy Efficiency, Regularization, Energy Consumption and Safety... (The Saint Andrew Settlement (Community hub) in Majesty Gardens, Kingston 11, St. Andrew)

EHF/GEF Renewable Energy Project in Majesty Gardens - Oct 7, 2014

Sensitization Session with residents to inform them about our 18 months renewab... (Majesty Gardens, St. Andrew)