Executive Chairman's Message
21 YEARS AS A POSITIVE SOCIAL CAPITAL ASSET ENHANCING THE QUALITY OF PEOPLE'S LIVES
"…do as many things as possible to help as many persons that are in need. Therein lies true strength and love for accomplishment."
Henry I.C. Lowe, O.J., C.D., J.P., Pd.D., F.R.S.H. – Executive Chairman, Environmental Health Foundation (EHF)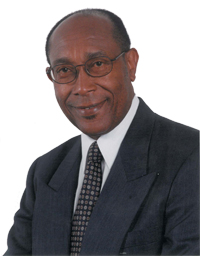 Reflecting on the twenty one (21) years of the Foundation's existence, it is with great pride that I recognize that we have managed to become a positive social capital asset, enhancing the quality of people's lives, and enhancing community productivity and cohesion in Jamaica, in the areas of health, education, science & technology, and the environment.
The Foundation's strategic plans over the years have allowed us to remain focused on our mandate, mission and vision, and to execute and support projects and programmes which will permit us to achieve our goals. Moreover, EHF believes strongly in the power of partnerships, and continues to employ this long-standing strategy which has contributed to the organization's sustainability and accountability.
The partnership developed over a decade ago with the Bernard Van Leer Foundation, for example, has provided a successful model for how two independent foundations can work together with a shared vision toward mutually beneficial ends. The partnership has facilitated a successful programme which improved the educational, health and nutritional status, as well as the care and protection, of children from the twelve targeted Kingston inner-city communities. Similarly, EHF's recent partnership with the United States Agency for international Development (USAID) on the Climate Change Adaptation Project in Cedar Valley, St. Thomas, has brought well needed interventions to a vulnerable, rural community that has seen extreme adverse effects brought on by climate change.
It is well known that institutional support for non-governmental organizations (NGOs) has been extremely limited and these organizations have been weakened by economic problems. Developing and maintaining partnerships has not, and cannot replace the total value of funding lost; however, it has acted as a buffer, whilst we seek new and innovate funding in partnership together, focusing on mutually beneficial interests that provide maximum benefit to target populations.
There is empirical evidence that the quality of public life and the performance of social institutions are indeed powerfully influenced by norms and networks of civic engagement. Researchers in such fields as health, education, urban poverty, unemployment, the control of crime and drug abuse have discovered that successful outcomes are more likely in civically engaged communities.
The year 2013 and beyond will be a period of change which will result in a wide range of opportunities and challenges. As we go forward, in partnership, we have an opportunity to build on our institutional successes and increase support for our various causes — but we must seize the moment and the opportunities.
11th Annual Wellness & Lifestyle Promotion 2015 - Apr 16, 2015

The Environmental Health Foundation (EHF) will be staging its 11th Annual "We... (Eden Gardens)

WORKSHOP:"Energy Efficiency, Regularization, Energy Consumption and Safety" with Kelly Tomblin - Nov 12, 2014

Workshop on "Energy Efficiency, Regularization, Energy Consumption and Safety... (The Saint Andrew Settlement (Community hub) in Majesty Gardens, Kingston 11, St. Andrew)

EHF/GEF Renewable Energy Project in Majesty Gardens - Oct 7, 2014

Sensitization Session with residents to inform them about our 18 months renewab... (Majesty Gardens, St. Andrew)