Health
Testimonial

"The Environmental Health Foundation has been a key participant in the formulation of Jamaica's National Policy for the Promotion of Healthy Lifestyles in Jamaica, aimed at addressing critical health problems affecting the nation. As one the country's few NGOs that have health as a focus area, the Foundation has contributed to healthy communities, schools and the workplace for the past 12 years. The Government acknowledges the Foundation's major contribution to the National Wellness Programme, and in helping to address the serious problems of diabetes and lead contamination." - Hon. John Junor, MP, Former Minister of Health
The Health Programme promotes the health and well-being of the Jamaican people and strengthens disadvantaged communities by focusing on health care, health services and health research.
The economic impact of wellness within a population is of vital importance in today's world and, whilst the prevention of chronic lifestyle-related illnesses is a priority of the Jamaican Government like many other Governments around the world, there is additional need to provide opportunities to develop a healthy lifestyle. The Health Programme focuses on health care, health services and health research. Jamaicans, in increasing numbers than ever before, are engaging in a variety of activities to maintain good health and longevity. We are also seeing an emphasis shifting from conventional medicine, which is designed to treat illness, to doing those things that can prevent sickness from occurring in the first place: this is because the overwhelming majority of the causes of death for men and women in Jamaica are related to our lifestyles — what we eat, drink and do.
Projects & Programmes
Annual Wellness & Lifestyle Promotion (Wellness Week)
University Diabetes Outreach Project (UDOP) Annual Conference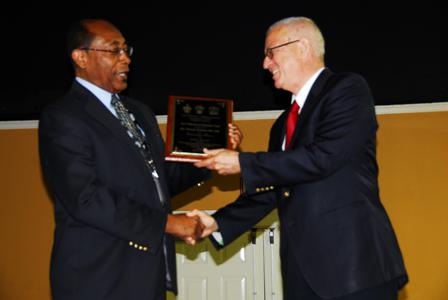 Above: Dr. Henry Lowe presents the Phillip Sherlock Award to the Hon. Rev. Ronald Thwaites at UDOP Conference 2010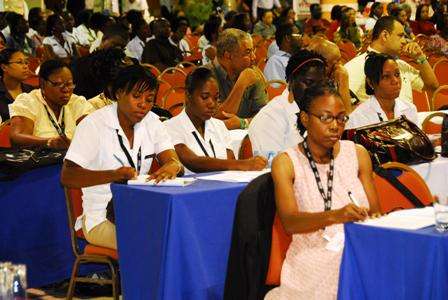 This Annual Conference, which is organised by the University Diabetes Outreach Programme (UDOP) in collaboration with The University of the West Indies (UWI) and the University of Technology, Jamaica (UTech), delivers the latest findings in diabetes research and treatment, as well as innovations on new drug development and monitoring device. EHF supports this annual conference, now in its 22nd year of staging, through sponsorship. EHF's Executive Chairman, Dr. the Hon. Henry Lowe, and his team, also presents scientific papers on diabetes management, at this conference.
EHF/UWI Nutritional Supplement for Drug Abuse Treatment & Management Project
This research project, which is supported by EHF, involves assessing the effectiveness of a formulation of nutritional supplements in reducing the cravings for alcohol and illicit drugs in the treatment of alcohol and drug dependence. The ultimate goal of the project is to develop an effective treatment option for illicit drug abuse.
The EHF/NHF Children's Wellness Culture Initiative (CWCI)
Prostate Cancer Guide – A Resource for Jamaican Men & Their Families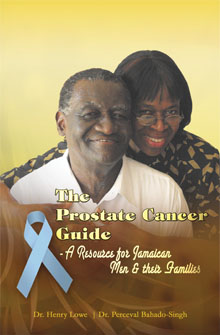 In light of studies that reveal that Jamaican men suffer from a disproportionately high incidence of prostate cancer, Dr. the Hon. Henry Lowe spearheaded the research and publication of this booklet, with the aim of fostering greater awareness among Jamaican men and their families about prostate cancer. It is the book's intention to assist Jamaicans in recognizing the possible warning signs of prostate cancer and to encourage them to take immediate action to facilitate early diagnosis and treatment.
EHF partnered with Jamaica National Building Society (JNBS) on this initiative, whereby JNBS provided funding assistance toward the printing of the first 2,500 copies of the book, which was launched in October 2010.
The book is endorsed by the Ministry of Health and the South East Regional Health Authority.
Organizations, individuals, projects and programmes we have supported in health
11th Annual Wellness & Lifestyle Promotion 2015 - Apr 16, 2015

The Environmental Health Foundation (EHF) will be staging its 11th Annual "We... (Eden Gardens)

WORKSHOP:"Energy Efficiency, Regularization, Energy Consumption and Safety" with Kelly Tomblin - Nov 12, 2014

Workshop on "Energy Efficiency, Regularization, Energy Consumption and Safety... (The Saint Andrew Settlement (Community hub) in Majesty Gardens, Kingston 11, St. Andrew)

EHF/GEF Renewable Energy Project in Majesty Gardens - Oct 7, 2014

Sensitization Session with residents to inform them about our 18 months renewab... (Majesty Gardens, St. Andrew)