EHF Group supports Joie De Vie Wellness Festival
The 'wellness warriors' from the EHF Group of Companies took part in the inaugural Joie De Vie 'Joy of living' wellness festival held at Fort Clarence Beach in Portmore on Saturday February 1 and Sunday February 2, 2014. The team's participation was commissioned by the Projects department that is on a renewed mission this year to participate in and support a number of wellness activities and events.
Get Healthy Jamaica Movement from Essential Medical Services is the engine behind this very unique series of events dubbed "Joie De Vie" The Joy of Living festivals. The Get Healthy Jamaica movement proactively helps others to live a wellness oriented lifestyle. This includes, but is not limited to, sports, nutrition, financial wellness, career balance, mental wellness and so much more.
Team members from EHF participated in the 5K and 10K walk/run competition with Rohan Gordon, Fitness Instructor at Gardens (a member of the EHF Group of Companies) emerging as the 10K walk champion. We also had challengers in the obstacle course, as well as product displays and giveaways from each subsidiary (Eden Gardens, Pelican Publishers and Bio-Tech R&D Institute). Additionally, there was a presentation on environmental wellness from the Projects team who also donated wellness alphabet books to children.
The competitive spirit of Joie De Vie is fueled by cross corporate rivalry, communities, groups and school teams, all vying for the right to be called the healthiest organization, group or company in Jamaica for 2014.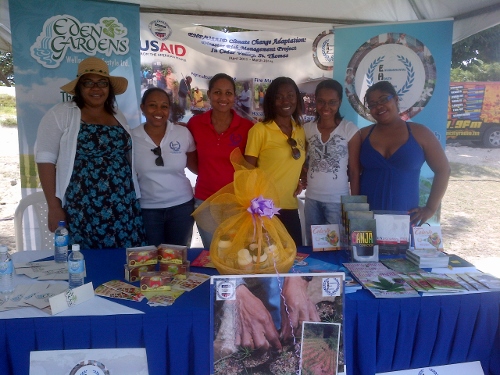 L-R: Tanesha Samuels – Manager, Bio-Tech; Patina Rankine – Project Officer, EHF/USAID; Latoya Aquart-Foster – Projects Manager, EHF; Faradaine Forbes-Edwards – Projects Officer, EHF; Aneka McKenzie – Admin. Asst., Pelican Publishers and Michelle Samuels – Property Manager, Eden Gardens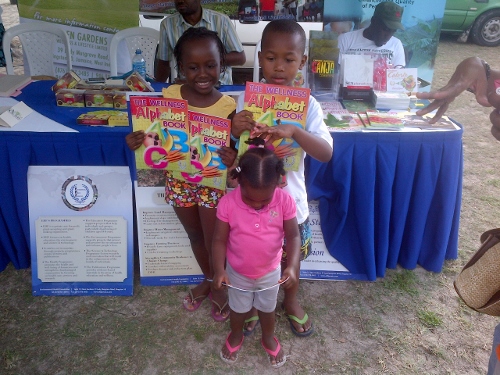 Children receiving their copies of the Wellness Alphabet Book donated by EHF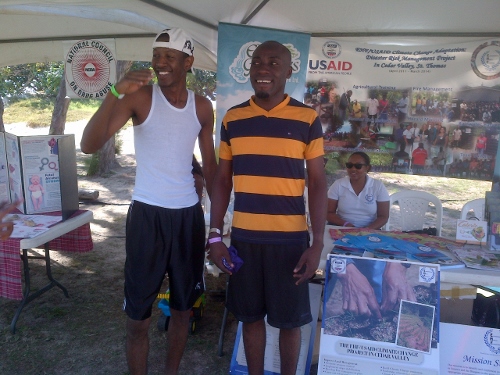 Obstacle course challengers (L-R): Deanroy Edwards and Eden Gardens team member Shevan McNeil.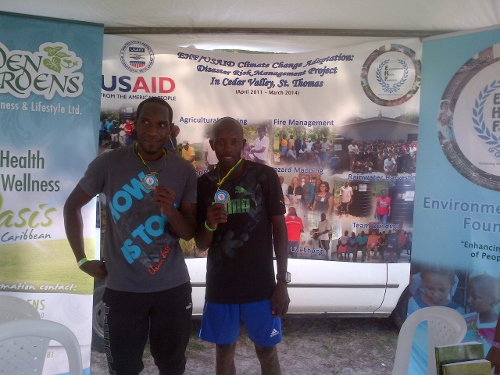 Rohan Gordon, Fitness Instructor at Eden Gardens Resort & Spa (left) and another 5K, 10K Walk/Run challenge winner. Rohan is the defending champion for most 5K and 10K walk marathons in Jamaica.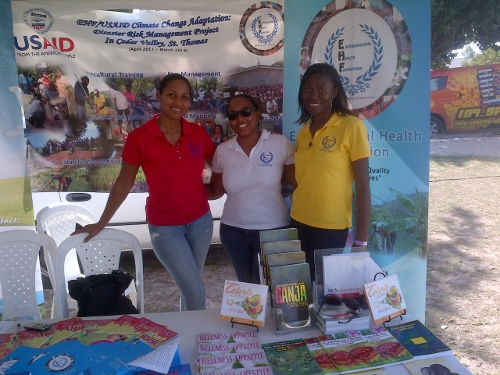 The very hard working Projects team members from EHF. 'Wellness Warriors'...totally committed to the cause.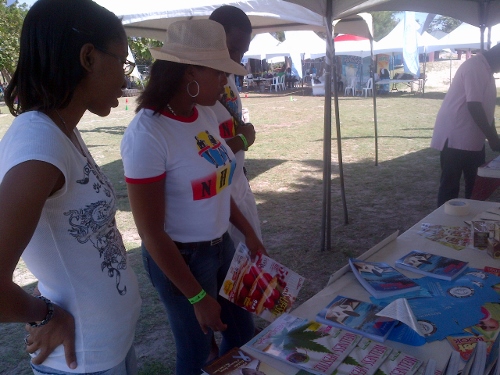 Pelican Publisher's Admin. Assistant, Aneka, welcoming guests to our booth. Pelican is a member of the EHF Group.
11th Annual Wellness & Lifestyle Promotion 2015 - Apr 16, 2015

The Environmental Health Foundation (EHF) will be staging its 11th Annual "We... (Eden Gardens)

WORKSHOP:"Energy Efficiency, Regularization, Energy Consumption and Safety" with Kelly Tomblin - Nov 12, 2014

Workshop on "Energy Efficiency, Regularization, Energy Consumption and Safety... (The Saint Andrew Settlement (Community hub) in Majesty Gardens, Kingston 11, St. Andrew)

EHF/GEF Renewable Energy Project in Majesty Gardens - Oct 7, 2014

Sensitization Session with residents to inform them about our 18 months renewab... (Majesty Gardens, St. Andrew)