"EHF Honours Outstanding Citizens in Social Wellness"
Jamaica National's Earl Jarrett is now the Environmental Health Foundation's Wellness Ambassador 2016-2017 for his outstanding volunteerism, and his leadership and championing of causes that promote social wellness. This year, the Environmental Health Foundation (EHF) celebrates 24 years of service to Jamaica and staged its 12th Annual Wellness & Lifestyle Award Ceremony & Cocktail Reception on Wednesday, May 18, 2016, under the theme: "Social Wellness: Engage, Connect, Support". The event served to recognize organizations and individuals who have made significant contributions to wellness and healthy lifestyle practices and promotion.
This year's awards were presented to the following deserving individuals who have gone above and beyond the call of duty in promoting social wellness in Jamaica:
Jordan Bennett in the category Social Wellness Youth Award, for establishing the charity "Feeding of the 5000 Outreach Foundation" which manages over 200 volunteers and plans outreach activities across the island;
Inspire Jamaica with Kerlyn Brown in the category Social Wellness Media Award, for the programme which inspires the nation with the most impactful stories of the courage of our youngest citizens in the face of adversity and triumph of the human spirit; and
Pastor Annmarie Richards in the category Social Wellness Individual Award, for the dedication and care that she has shown in making provisions for thirty-two children (and counting!) who were deemed homeless and short of love and affection.
At EHF, social wellness is defined as being aware of the social concerns in your community and getting involved to solve these problems, whilst engaging and connecting with others to achieve the goal. The powerful and moving keynote address was delivered by the eloquent and conscientious Director of Public Prosecutions, Ms. Paula Llewellyn. She impressed the importance of good social responsibility beginning at the grass roots level.
"We must start taking care of each other! I know, in my office, that we would be faced with less horrendous (criminal) cases if we can rid ourselves of the apathy and disengagement pervading society," she said. She commended the awardees and the all-female staff of the EHF for their hard work and dedication towards enhancing the quality of people's lives.
JMMB's Keith Duncan, the outgoing Wellness Ambassador for 2015-2016, gave a rousing call to action in his awe-inspiring remarks. "We have a responsibility, as Jamaicans, to our fellow citizens and to our country to support community development initiatives like the EHF (does)," he said as he recalled a few of EHF's projects including the recently concluded intervention in Majesty Gardens, Kingston.
Mr. Earl Jarrett was announced as the incoming Wellness Ambassador by Novlet Deans, CEO and Director of EHF in her "journey to wellness" continuation series.
The event was held on the lawns of Eden Gardens Wellness Resort & Spa with Prof. the Hon. Errol Morrison serving as MC. The talented Don Shepherd of The No-Maddz provided entertainment, performing dub poetry excerpts from his book, In the Morning Yah.
Latoya Aquart-Foster, Projects Manager at EHF gave a brilliant overview of the concept stating, "Whilst the Promotion covers wellness from a holistic perspective, our focus is on Social Wellness this year. We believe that more needs to be done to encourage civil society to ramp up much needed interventions for the poor and vulnerable among us. Let us engage more, connect more, and support more."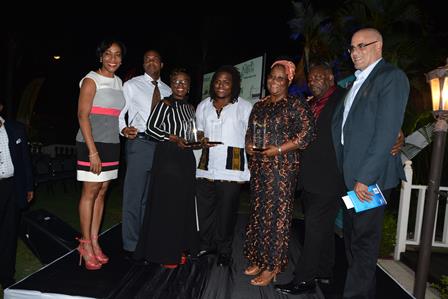 (From L-R) Novlet Deans, CEO & Director, Environmental Health Foundation; Jermaine Deans, Deputy General Manager, JN Fund Managers Ltd who received the award on behalf of Earl Jarrett, General Manager, JNBS; Kerlyne Brown of Inspire Jamaica; Jordan Bennett of Feeding of the 5000 Foundation; Ann- Marie Richards and Elricka Richards of Stars of Hope Programme; Keith Duncan, CEO, JMMB Group.
Credit: Charles Ferguson
11th Annual Wellness & Lifestyle Promotion 2015 - Apr 16, 2015

The Environmental Health Foundation (EHF) will be staging its 11th Annual "We... (Eden Gardens)

WORKSHOP:"Energy Efficiency, Regularization, Energy Consumption and Safety" with Kelly Tomblin - Nov 12, 2014

Workshop on "Energy Efficiency, Regularization, Energy Consumption and Safety... (The Saint Andrew Settlement (Community hub) in Majesty Gardens, Kingston 11, St. Andrew)

EHF/GEF Renewable Energy Project in Majesty Gardens - Oct 7, 2014

Sensitization Session with residents to inform them about our 18 months renewab... (Majesty Gardens, St. Andrew)