EHF's 10th Annual Wellness & Lifestyle Promotion 2014
The Environmental Health Foundation's Wellness & Lifestyle Promotion 2014 was celebrated April 28 to May 2 under the theme: 'Wellness Redeveloped - From the Inside Out'. This year's activities were a great balance of education and entertainment, benefiting students, corporate professionals and members of the general public.
Days 1 & 2 – Media Day
April 28 & 29 were dedicated to promoting the week's events. The events were broadcasted on Fame 95FM and RJR. A supplement was published in the Gleaner on Tuesday April 29, highlighting EHF's 22 years of service to Jamaica. This special advertising feature was made possible by our kind sponsors: Eden Gardens Wellness Resort & Spa, Bio-Tech R&D Institute, Barita Investments Ltd, Mayberry Investments Ltd, Spanish Court Hotel, Yolens, Dr. Harvey Chiropractic Centre, JMMB Limited, Hylton & Hylton, King Alarm System and Thwaites Finson Sharp. The following dignitaries also supported the feature with messages: His Excellency the Most Honourable Sir Patrick Allen, ON, GCMG, CD – Governor General, The Most Honorable Portia Simpson Miller, ON, MP – Prime Minister, Dr. the Honourable Fenton Ferguson, MP – Minister of Health, and Denise Herbol – Mission Director, USAID Jamaica.
Day 3 – Wellness Awards Ceremony & Dinner
Four distinguished individuals and organizations received awards at our 10th Annual Wellness & Lifestyle Awards Ceremony & Dinner, held on Wednesday, April 30, 2014 on the lawns of Eden Gardens Wellness Resort and Spa in Kingston. The recipients of this year's awards were: Deika Morrison, Spartan Health Club, Source Farm Foundation and EcoVillage, and Kelly Tomblin.
Deika Morrison received the award for her contribution to Educational Wellness, specifically for her role in early childhood development, through the establishment and implementation of Crayons Count, which benefits over 2,600 institutions and 130,000 children annually through much needed, age appropriate educational resources.
For promoting wellness, healthy lifestyles and physical fitness in Jamaica for almost 40 years, Spartan Health Club & Wellness Centre was recognized and awarded for their contribution to 'Physical Wellness'.
Source Farm Foundation & EcoVillage received the award in the category "Environmental Wellness" for their efforts in preserving wildlife and botanical habitat; creating a life style that regenerates rather than diminishes the integrity of the environment; and for educating persons about organic farming, renewable energy technologies, and sustainable building.
The surprise of the night however, was the special designation bestowed upon Kelly Tomblin, President & CEO of Jamaica Public Service Company Ltd, as EHF's Wellness Ambassador 2014. Mrs. Tomblin received this designation for her holistic approach to wellness. She persistently promotes energy efficiency and conservation, and demonstrates her transformational leadership skills both in her corporate and personal environment. She encourages her staff to keep a healthy work-life balance and portrays her dedication to proper nutrition and fitness. If all that wasn't enough examples of how much Ms. Tomblin embodies wellness, she consistently cherishes and nurtures mental growth and stimulation and encourages others to do the same.
The program was managed by the charming Paula-Ann Porter-Jones, with Kelly Tomblin serving as Keynote Speaker. Entertainment was provided by Panoridim (the UWI Mona Steel Band).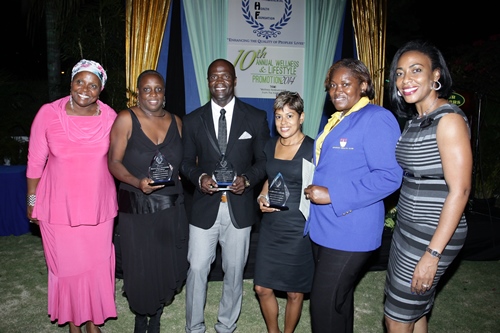 (L-R) Blondel Shirley and Nicola Shirley-Phillips (Source Farm Foundation & Ecovillage); Stephen Ming - Spartan Health Club; Deika Morrison - Crayons Count; Carmen Lynch - Spartan Health Club; Novlet Deans - Director and CEO, EHF Group.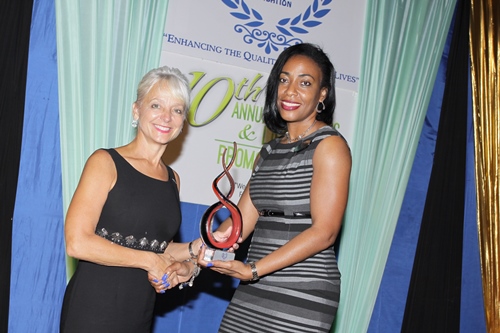 (L-R) Kelly Tomblin, President and CEO - JPSCo. accepting her designation as EHF's Wellness Ambassador by Novlet Deans, EHF Group CEO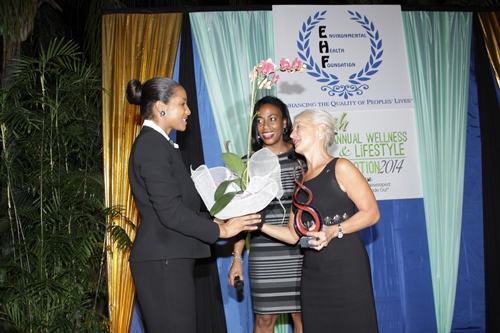 (L-R) Latoya Foster, Project Manager – EHF, making a presentation to Kelly Tomblin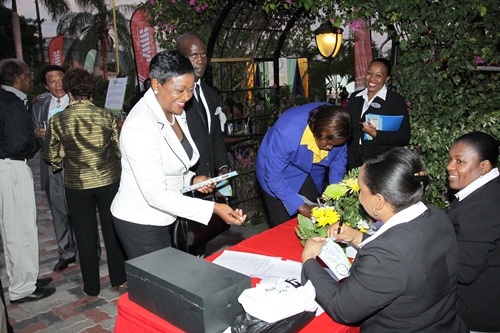 Registration of guests in progress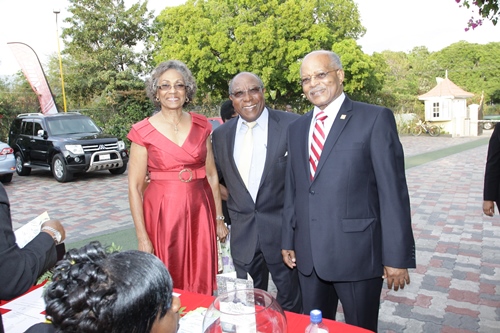 Their Excellencies Sir Kenneth Hall (Former Governor General) and Lady Rheima Hall with Dr. Herb Lowe – Deputy Chairman, EHF (centre)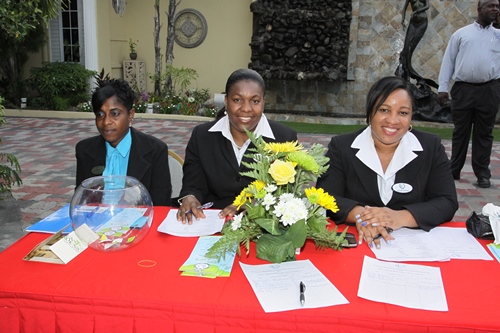 (L-R) Tammeka Ferguson, Marcia Williams, and Nikeisha Lee – Staff of EHF Group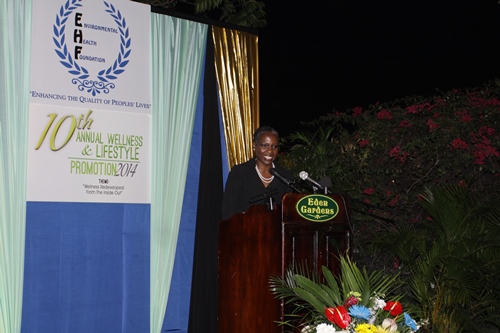 Master of Ceremonies, Paula-Ann Porter-Jones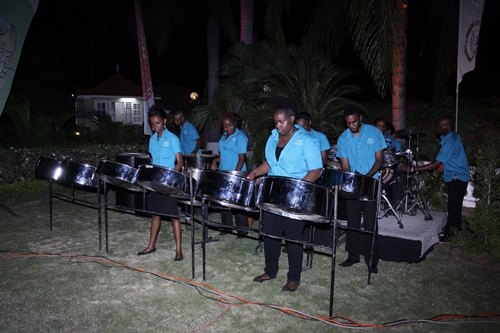 Panoridim (the UWI Mona Steel Band) entertaining the audience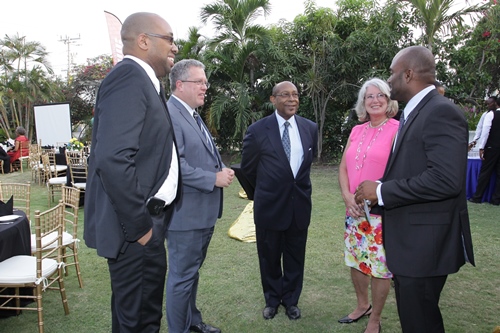 (L-R) Delano Seiveright, His Excellency Robert Ready – Canadian High Commissioner to Jamaica; Dr. Henry Lowe – Executive Chairman, EHF Group; Her Excellency Mrs. Ready (High Commissioner's wife) and Dr. Andrew Wheatley, MP, St. Catherine South Central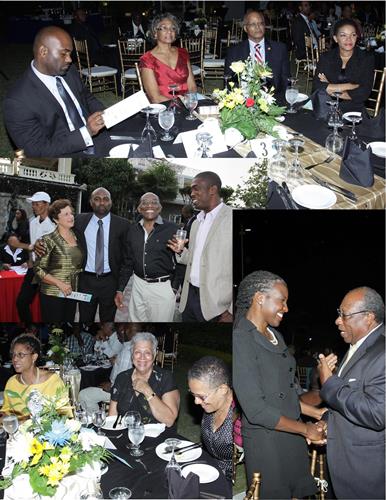 Members of the audience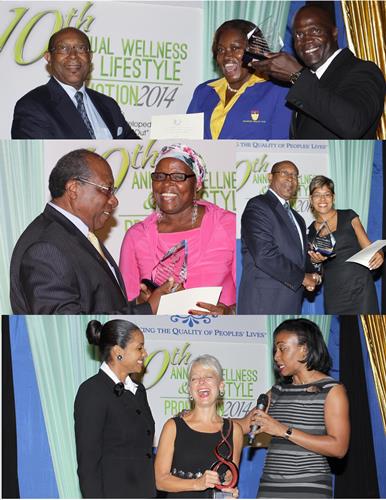 Recipients accepting their awards and citations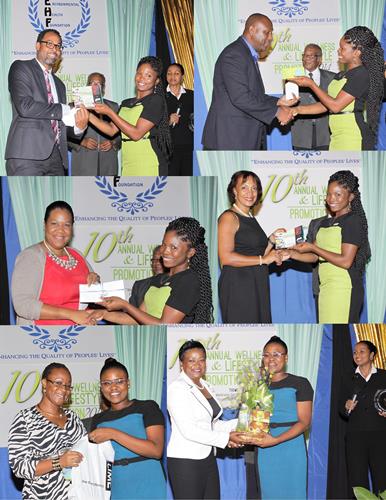 Gate Prize winners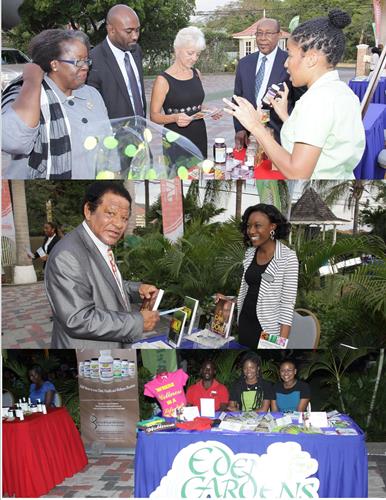 Booth Holders
Day 4 - Schools Wellness Seminar
Another eventful Wellness Seminar was held on May 2, 2014 at Eden Gardens. EHF Wellness Club members from nine (9) schools within the parishes of Kingston, St. Andrew, St. Ann and Clarendon were in attendance and participated with their usual exuberance. EHF Group CEO, Novlet Deans and Projects Manager, Latoya Aquart-Foster both brought greetings.
Mrs. Dorrset Gabbidon-Pottinger, Acting Assistant Registrar, Student Services and Career and Placement Officer at the University of Technology, Jamaica again facilitated the Wellness Seminar. This year, she focused on the theme "Wellness Redeveloped: From The Inside Out" and zeroed in on the ability to make oneself happy with Pharrell's 'Happy' as the theme song.
An informative and practical presentation on Dinning Etiquette and Proper Table Manners was presented by Ms. Nancy McLean, Food and Beverages Manager, Eden Gardens Wellness Resort & Spa.
The fun and excitement continued with our Wellness Drama competition. The judges had a very difficult time choosing a winner from the very talented pool of contestants. After much deliberation, Westwood High School and Lannaman's Preparatory won their respective categories.
Winners and runners-up for the poetry, poster and drama competitions were awarded with trophies and certificates. Outstanding Club Coordinators were acknowledged and awarded for their work with the students and in the club. St. John's Preparatory from St. Ann won the Special Projects competition for their extensive work in their school and community, promoting and encouraging wellness.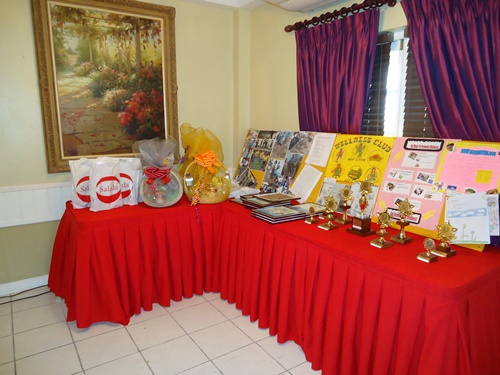 Display table with poetry and poster entries and awards from sponsors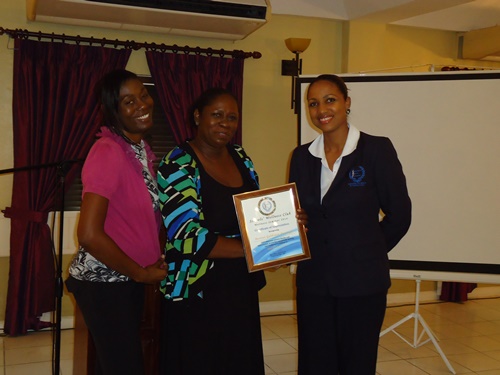 Faradaine Forbes-Edwards (left) and Latoya Aquart-Foster (right), making a presentation of appreciation to Dorrset Gabbidon-Pottinger (centre)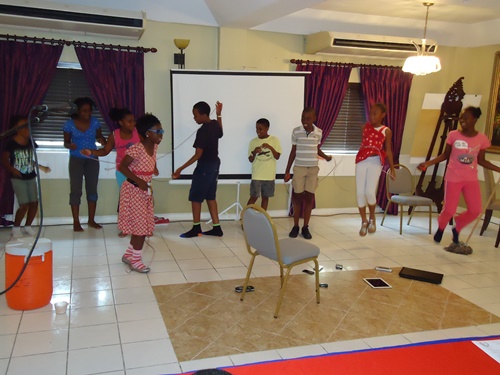 Students from St. John's Preparatory lead my their main character 'granny' performing in the Wellness Drama competition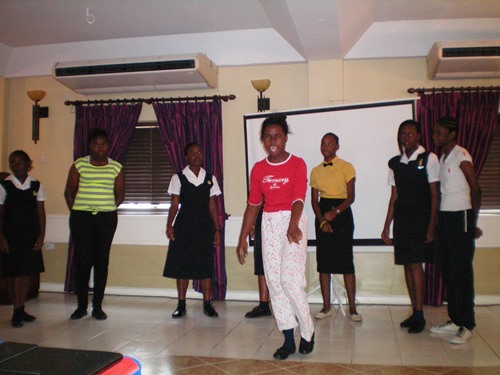 Students from Westwood High School in action during the Wellness Drama Competition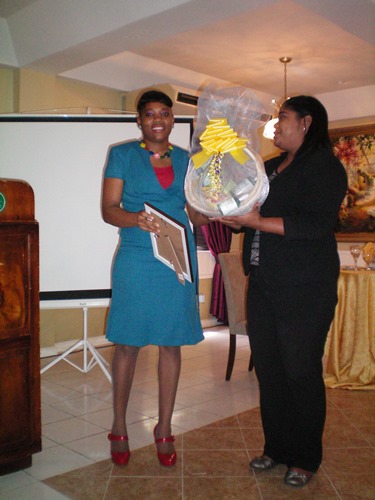 Mrs. Lisa Douglas-Robinson, Wellness Club Coordinator at Kemps Hill High receiving her token for Most Outstanding Club Coordinator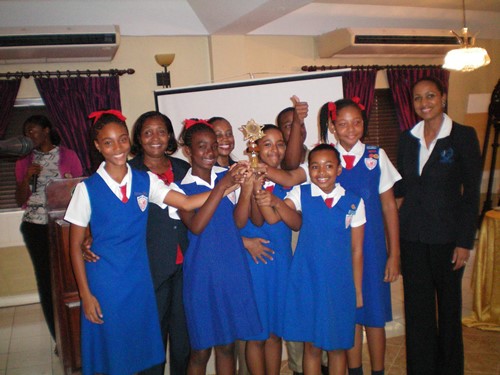 Winners of the Wellness Drama Competition (Secondary Category), Lannaman's Preparatory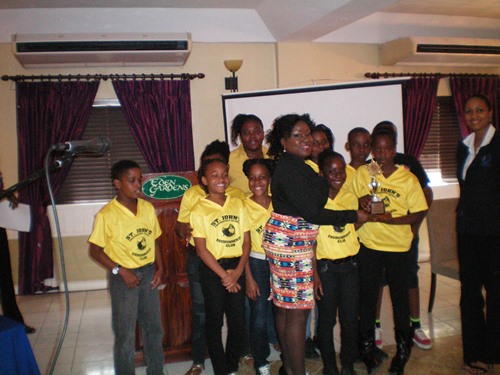 St. John's Prep - Winners of the EHF Special Projects Competition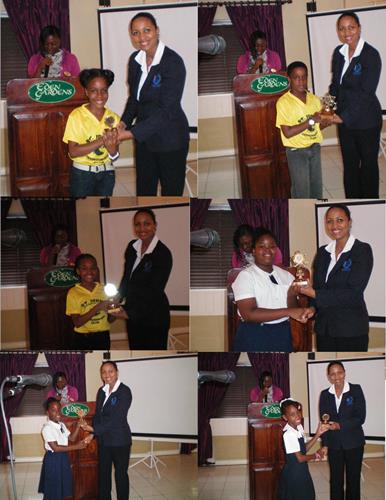 Winners and runners-up of the Wellness Poetry and Essay competitions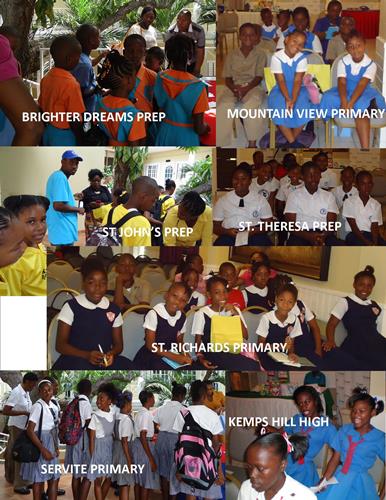 Wellness Seminar Participants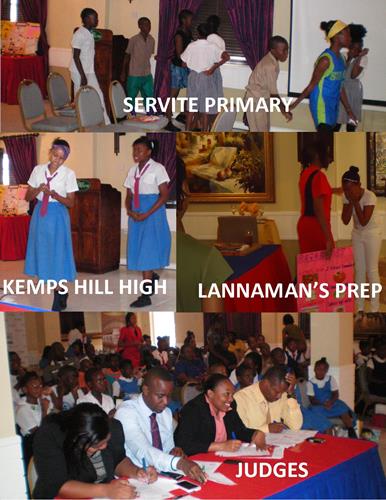 Wellness Drama Competition
Day 5 – Nutrition and Fitness Workshops
This year's Wellness Week of activities ended with its usual flair with our Nutrition and Fitness workshops on Friday May 2, 2014. Nobody does it better than Nestlé Jamaica, and they were once again invited to facilitate the Nutrition workshop. The team of nutritionist and chefs hosted a wonderful programme which featured a discussion session on types of cooking methods, a cook off between teams from the audience, demonstrations of simple healthy meals for the home and giveaways. Fun and excitement filled the room as members of the audience, comprised of kindergarteners' parents and school cooks, participated fully in all exercises and requested re-fills of every recipe sampled.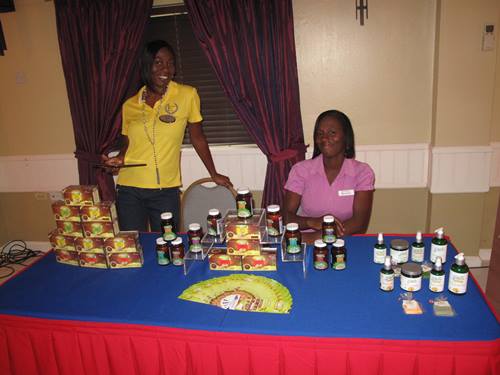 EHF's Project Officer Faradaine Forbes-Edwards (left) hanging out at the Bio-Tech's booth with their Marketing Officer, Rivaley Patterson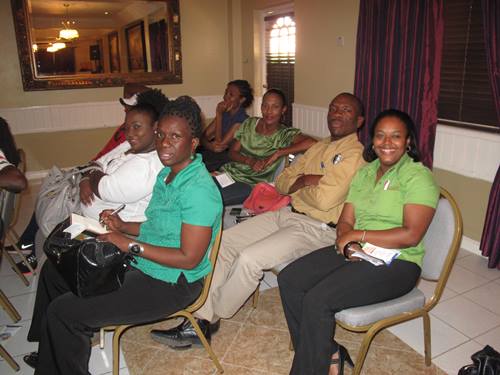 Parents and school cooks from Alpha Primary and Infant taking time out for the camera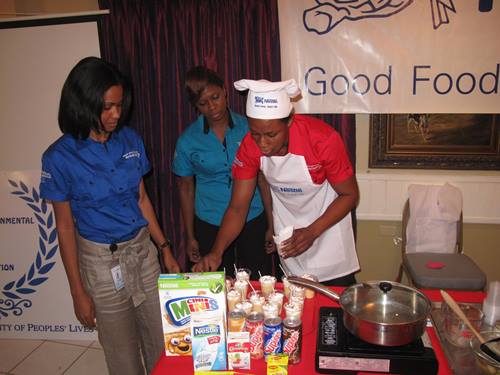 Shelly-Ann Castello and her team from Nestlé serving up a delicious and nutritious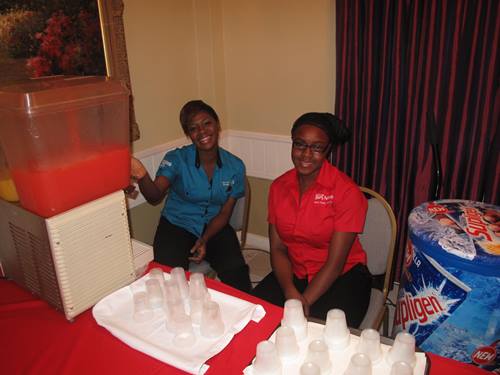 The lovely ladies at the Nestlé beverage booth
Participants in the Nestlé cook off challenge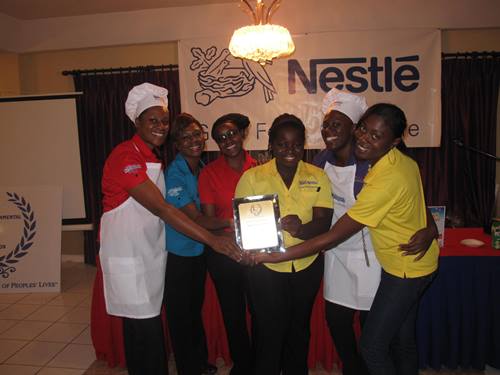 The team from Nestle receiving their token of appreciation from Faradaine Forbes-Edwards (right)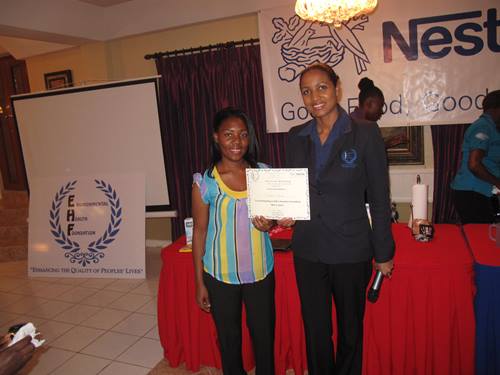 Certificate of participation being awarded to a participant in the Nutrition Workshop
The Fitness Workshop culminated the week's celebrations. Participants from the nutrition workshop and members of the EHF staff participated in the workout session hosted by Rohan Gordon, Gym Instructor at Eden Gardens. There were as many cries as there was perspiration as the Instructor showed very little mercy to the many 'unfit' participants. The group however thoroughly enjoyed the session and thanked the team for providing them with a free work out of the best quality.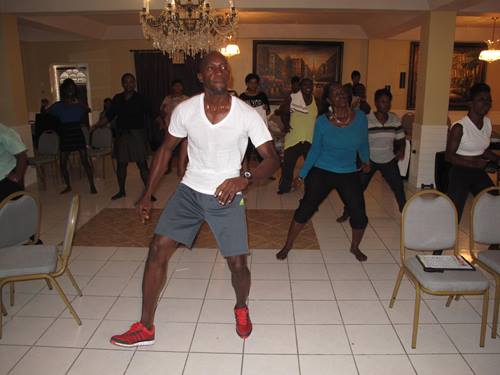 Fitness Workshop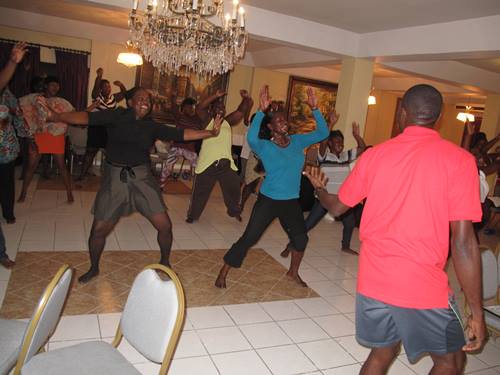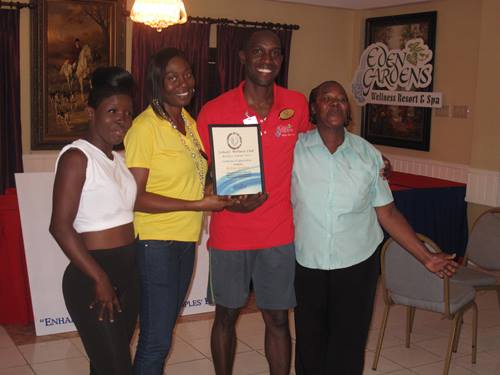 Rohan Gordon being presented with his certificate of appreciation from Faradaine Forbes-Edwards. They are sandwiched by two of the workshop participants
11th Annual Wellness & Lifestyle Promotion 2015 - Apr 16, 2015

The Environmental Health Foundation (EHF) will be staging its 11th Annual "We... (Eden Gardens)

WORKSHOP:"Energy Efficiency, Regularization, Energy Consumption and Safety" with Kelly Tomblin - Nov 12, 2014

Workshop on "Energy Efficiency, Regularization, Energy Consumption and Safety... (The Saint Andrew Settlement (Community hub) in Majesty Gardens, Kingston 11, St. Andrew)

EHF/GEF Renewable Energy Project in Majesty Gardens - Oct 7, 2014

Sensitization Session with residents to inform them about our 18 months renewab... (Majesty Gardens, St. Andrew)