Innovation, Science & Technology Meet Climate Change Adaptation at the Cedar Valley Primary & Junior High School in St.Thomas
In a bid to build adaptive capacity to the impacts of climate change, EHF has constructed a highly innovative School Gardening System at the Cedar Valley Primary & Junior High School. A first in Jamaica, this system encompasses a vegetable garden that is irrigated using gravity fed rainwater harvested on the school property. The garden, which was designed and constructed by Proqual Solutions Limited, utilizes row covers to protect the crops while they grow, which results in increased yield and larger fruits and vegetables. Students and teachers of the school were involved in the establishment of the garden, which grows tomatoes, sweet pepper, lettuce, pak choi and Scotch Bonnet peppers. The garden and irrigation system will benefit the entire school population of 200 students, by providing vegetables to supply the school's canteen while serving as a training facility for its agricultural science students. Moreover, it will act as a demonstration plot for sustainable agricultural and irrigation practices for the wider community, which will enhance overall knowledge and skills.
Young vegetables arranged under the row cover and drip irrigation system
The system forms part of the overall USAID-funded Climate Change Adaptation project in Cedar Valley, St. Thomas, being implemented by EHF, to build resilience to the impacts of climate change, and to promote sustainable livelihoods.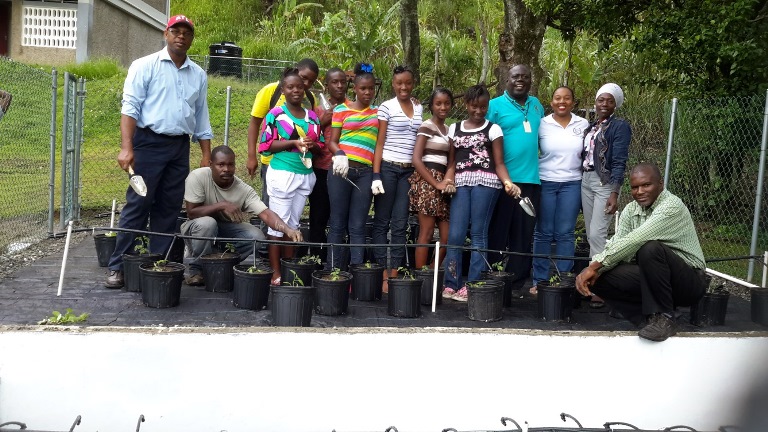 Mr. Linton Snowball of Proqual Solutions (left) is joined by students of the Cedar Valley Primary & Junior High School (centre) after potting vegetables for the garden. Also pictured are: Edwin Morrison – Assistant Extension Officer, RADA St. Thomas (3rd from right); Patina Rankine – Project Officer, EHF/USAID Climate Change Project (2nd from right); and Tishi Shaw – Agricultural Sciences teacher (Right)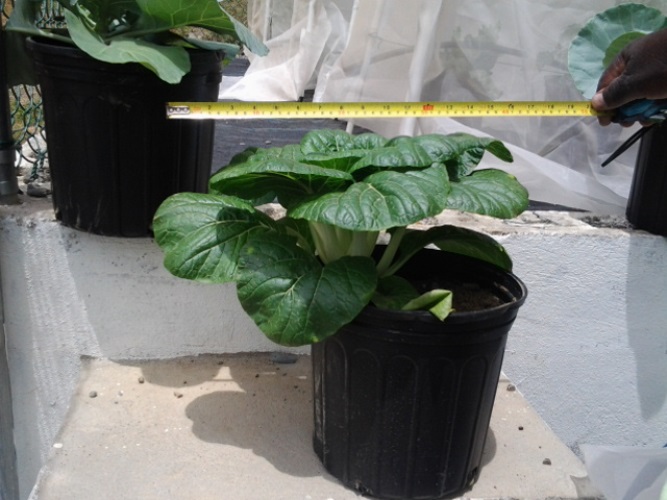 Pak choi plant (at maturity) grown under the row cover is shown to be larger than the average plant grown without the use of a row cover
11th Annual Wellness & Lifestyle Promotion 2015 - Apr 16, 2015

The Environmental Health Foundation (EHF) will be staging its 11th Annual "We... (Eden Gardens)

WORKSHOP:"Energy Efficiency, Regularization, Energy Consumption and Safety" with Kelly Tomblin - Nov 12, 2014

Workshop on "Energy Efficiency, Regularization, Energy Consumption and Safety... (The Saint Andrew Settlement (Community hub) in Majesty Gardens, Kingston 11, St. Andrew)

EHF/GEF Renewable Energy Project in Majesty Gardens - Oct 7, 2014

Sensitization Session with residents to inform them about our 18 months renewab... (Majesty Gardens, St. Andrew)